Post by tp446 on Dec 5, 2018 14:53:55 GMT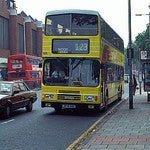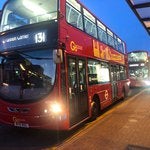 I know I'm probably alone here but I do think the 140 proposal is a good idea. Extra capacity is definitely needed on that route, and I believe that that route couldn't be left alone to suffer post-Crossrail. This route has been absolutely bucking the general decline trend and is getting busier year on year on year so something needs to be done to it eventually.
Imo the change can be judged to be a success or not on the numbers, like with the 83/483. The 83 (pre 483 split) peaked at 12.6 million journeys a year, and one can infer whether the 83 change can be a success or not if the combined usage of the two split routes are greater than before, which they are, but with a tiny bit of educated estimating. I estimate the combined patronage of the 83 and 483 for 2017/18 to be around 14.1 million had it have been measured under the old method. Therefore there's more people using the 83/483 in its form now rather than a big 83, so therefore I can infer this change to be a success. If the revised 140/X140 does the same (ie has a combined usage greater than before and relieves the capacity, which I hope it will) then it will have made the change worthwhile imo.

The problem I foresee with the 140 / X140 is that I'd guess (again no info from TfL) that a lot of people making shortish local trips will suffer a lower frequency because the 140 frequency is being cut. Some will gain if their trips perfectly coincide with the X140's stopping pattern *or* they are willing / able to walk a longer distance to reach a X140 stop rather than wait for a 140. I don't see how longer access times to / from stops are an upside unless the X140 is going to run at hyper speed to offset the longer walk time and longer average wait time (given we're told the planned X140 frequency has now been cut). The mess that is access to Heathrow if you are in or around Hayes under the new service arrangement is also a concern. If 140s were empty at Hayes and Harlington, rather than packed full, then I could understand turning them there. However decanting large numbers of people to crush inside X140s or having to wait for a 278 if you want to reach a stop the X140 won't serve is not the way you treat your existing passengers. I think TfL are secretly hoping people will take to Crossrail instead but they'd be mad to do that if they are using PAYG - £6 to go one stop into the airport!
Exactly the problem I foresee.
The loading patterns on the route are very clear.
Each bus unloads at stations then fills up at the following stops before unloading at the next station.
I live on the 140 route and my local stop is one stop south of South Harrow Station.
Between the hours of 0630 and 0830 I cannot board ANY 140s that arrive, with the majority of these people on-board having boarded SINCE Northolt Station.
At the next stop at South Harrow Station, about half the bus alight to use the Piccadilly Line.
Buses then fill up at the in-between stops in to Harrow, where almost all alight.
Now to my continued surprise there are just as many people that then board in Harrow for Wealdstone and The Weald.
Yes, the X140 WILL be great use and will help the 140s overcrowding, especially in the evening peaks south from Harrow, however MOST will not break their habits and wait at further bus stops for the 140 down the line where they almost certainly will not be able to board.