Post by LT 20181 on Dec 5, 2018 16:50:27 GMT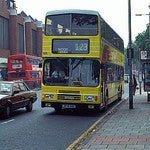 Exactly the problem I foresee.
The loading patterns on the route are very clear.
Each bus unloads at stations then fills up at the following stops before unloading at the next station.
I live on the 140 route and my local stop is one stop south of South Harrow Station.
Between the hours of 0630 and 0830 I cannot board ANY 140s that arrive, with the majority of these people on-board having boarded SINCE Northolt Station.
At the next stop at South Harrow Station, about half the bus alight to use the Piccadilly Line.
Buses then fill up at the in-between stops in to Harrow, where almost all alight.
Now to my continued surprise there are just as many people that then board in Harrow for Wealdstone and The Weald.
Yes, the X140 WILL be great use and will help the 140s overcrowding, especially in the evening peaks south from Harrow, however MOST will not break their habits and wait at further bus stops for the 140 down the line where they almost certainly will not be able to board.

These commuters probably would change their travel habits with the new X140 running alongside the original 140. Maybe it would just take some time to get used to the changes.