Post by sid on Sept 19, 2017 20:36:37 GMT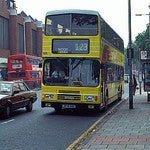 I can see the people on Park Road Dartford wondering why they can't get on the nice "every 8 minutes" 96 bus when Arriva only bother to provide the "hourly if you are lucky" 423 bus into Dartford and to New Ash Green. Some, I guess, can walk round to The Brent where they have more choice but I do wonder what goes through Arriva's head with the planning of some of its bus routes. Perhaps everyone in Dartford just uses cars?

Ages since I've been there so don't know what it's like these days.
Fastrack B has no height restrictions between Temple Hill and Greenhithe Station.
I think the section from Dartford to Princes Rd may be OK towards Bluewater, but other way, the 96's would have a tricky left turn onto Market Street, whereas the B's go straight on to Home Gardens.
London Road residents are used to the non stop 96 , they have the x20min 480 , x30min 492 and an hourly 455 Mon-Sat daytimes.
Park Road, only has a couple of poorly positioned bus stops, and I've never seen anyone waiting there. The 423 relies on the Fleet Estate , Darenth Hill and New Ash Green residents for its custom. It is quite rare to see a 96 using the Park Road route.
Dartforrd as a town has a very strong mini cab trade. Phones in all the shopping centres, and from what I've seen, most have figured out a family of three with shopping from Temple Hill to Dartford is cheaper by mini cab , if not, certainly very convenient
There's certainly no height restriction anywhere on the fastrack network. I can only assume that the stopping arrangements for the 96 at DVH means it will have to use fastrack until it rejoins Princes Road and so can no longer use Watling Street? I also can't recall ever seeing anybody use the bus stops in Park Road and I've never seen a 96 go that way although obviously there is no reason why they can't.
I did see a suggestion on social media that the 96 should also stop at the Livingstone Hospital on East Hill although I can't see that being practical, it's only a small hospital.
I suspect the strong mini cab trade in Dartford is largely down to the rather poor bus services, even fastrack doesn't seem to be run very well, certainly the similar fastway network in Crawley seems a lot better.