Post by snowman on Jan 7, 2011 6:37:36 GMT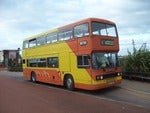 The difference is the PVR's of the 93, 151 & 154 are much higher than the 406 & 418 which both have a PVR of only 4. Usually a route with this low a PVR won't have many spares and since the 467 only has a PVR of 2, they can easily work round that. The school journey only runs 1 journey each way I'm guessing. Most companies run a spare along a school route rather than ordering a vehicle that probably won't see much daylight.
.
Their spare seems to be the sole remaining Citaro, it is occasionally on 406 or 418 to Kingston.
As article says nearly £400,000 for 2 buses, an extra one for standby would be a lot of money, and if you maintain properly shouldn't break down. I can't remember ever seeing a Quality Line DD broken down, so presumably 11 out of 12 normally available for service will have been factored into the costings and maintenance regime.
One advantage of having a school route, is the school holidays allow you to schedule heavy maintenace, refurb. etc.