Post by sid on Sept 6, 2016 5:24:10 GMT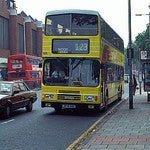 I really don't understand the constant negativity, it was inevitable that this was going to happen sooner or later and the situation is bad enough now at busy times without the masses that Crossrail is expected to bring to the area.
Bus routes along Oxford Street have been thinned out over recent years and remaining routes are often very lightly loaded. Yes a few people might be slightly inconvenienced but the same would apply to any other area that has been pedestrianised and they wouldn't have two underground railway lines as an alternative.
It's simple enough. People are demanding bus reductions well in advance of 2018. That's unacceptable. There is no funding nor is there an agreed scheme for Oxford St pedestrianisation. There is no legal sign off from anyone. Boris talked about it for over 4 years and got nowhere. Anyone who thinks Mayor Khan can magically make Westminster City Council, whose street it is, do what he might want is living in cloud cuckoo land. They have the responsibility to balance a whole load of conflicting issues and they'll be responsible for doing the work. I wonder when the next council elections are? Oh yes, May 2018 - excellent timing.
We don't have two underground railways today and we won't have them until Dec 2018. Even in 2018 Crossrail will not be operating a full service - that takes at least another year. The railway that is currently there is not accessible nor are there plans to make Oxford Circus or Marble Arch stations accessible at any time within the next decade never mind by 2018/9. Therefore it is wholly unreasonable to withdraw the accessible public transport available to everyone when there is no alternative. If WCC or TfL try to do this without a full and proper Equality Impact Assessment they'll find themselves on the wrong end of a legal challenge - guaranteed! Transport for All will ensure that happens.
And just because you are seemingly happy with this policy really doesn't mean everyone else has to be.
I wouldn't go as far as to say I'm happy about it, I just see it as inevitable. I can remember similar concerns being aired when North End in Croydon was closed to buses years ago, largely due to safety reasons.