Post by vjaska on Feb 14, 2017 19:13:52 GMT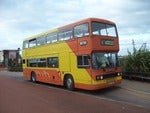 I don't think it was a failed policy at all, the 28 and 31 conversion for example was a great success even though it came in for a lot of criticism. The high frequency of the 'bread vans' attracted a lot of new custom to the routes and subsequently they were converted back to double deckers at a higher frequency than had been the case previously.
Residents are entitled to object to buses, some objections are ridiculous and some are quite reasonable and they need to be judged individually. Certainly 'bread vans' are far less likely to be met with such objections.
I think that there is plenty of potential for small buses in London on certain routes serving narrow residential roads but obviously not on trunk routes.
The 28 & 31 conversions were a clear failure - two busy routes started suffering from leaving many people behind because the minibuses were woefully inadequate to meet demand - not my words but from staff from Centrewest and people who used the route during the 90's. Eventually, sense was seen and they gained deckers.
I didn't say residents aren't entitled to object but most of the time, they come up with daft reasons which halts many good routings and extensions at the detriment of the people who would use that service.