Post by YY13VKP on Aug 28, 2017 22:53:56 GMT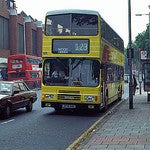 Nice video - shame about the mewling baby in the background. Love the "Zubin productions" intro and theme tune.
I haven't been on Thameslink for years but I'm afraid my memories aren't very favourable given the appalling state FCC kept their trains in. A long PM peak crawl from Burgess Hill to London on a 319 is one of the most tedious journeys I've ever been on - slow, dirty and dreadful seats. I guess I'm not yet too nostalgic for the old train motors noise as I still have 315s on my local route but obviously they're in their last 9 months of life on Overground.
Even more oddly I have only seen 1 class 700 in the metal near Herne Hill and haven't been on one yet. I did see the mock up when it was at Excel and I wasn't impressed then and I know very little has changed since. People on some forums are also extremely critical of the 700s because they're so uncomfortable. Still Thameslink users are stuck with them for another 40 years.
Thanks Snoggle. The intro was originally from a default trailer on iMovie, and used in my channel trailer which I built from that default trailer, but I thought the intro was good that I used it in all my videos from then on. Yeah that crying baby was a pain in the ass, but its part of life, theres nothing much you can do. Once upon a time we all cried loudly while travelling as babies

. Also found out
Hassaan
was in the same carriage as me and
725DYE
.
Given my general hatred for Desiro's, I actually think the 700's are good successors to the 319. Yes, the seats may be hard but the general space and comfort of the train is good, I really like the new advanced PIS and they actually look a bit like an "advanced/Renatus (the term used to describe GA's 321 refurbs)" version of a 319, the doors look quite similar to a 319, albeit a bit wider. Of course, nothing can replace the original 319 traction motors. I would prefer Aventras though to replace the likes of the Southern Class 455's, which need to be gone by 2023 unless something drastic happens such as a 321 style refurbishment