Post by snowman on Feb 25, 2018 7:14:40 GMT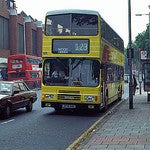 Yes I heard that too. Getting mightly fed up now and it hasn't even turned up yet.
If we do get a lot of snow then it's going to be very interesting to see how TfL, Network Rail / TOCs and local councils cope. London is not good at coping with severe prolonged snowfall and ice.
Will be fascinating to see how cycle lanes / CSHs are cleared of snow. We have new cycle lanes adjacent to footpaths locally and Waltham Forest are notoriously useless at gritting / clearing pavements so if they remain as bad as before then all the cycle paths will be impassable which will bring the pains on I am sure. And remember how bus services fell to bits a few weeks ago when we got some fleeting snow? If we get days and days of it and ongoing freezing temperatures then a lot of people are going to struggle to get anywhere if we replicate the mess that happened a few weeks back. Thameslink's new GN to Southern area services probably won't run after Tuesday either as GTR are already warning of reduced timetables from Tuesday onwards! I know 14 day forecasts are unreliable but this cr*p weather is forecast to last nigh on a fortnight with no sign of any relief at all.
Kingston also has some of those cycle lanes but they also have a mini gritter, normally used in the town centre (it's a quad bike with a gritting trailer)
Latest appears to suggest the heaviest snow will be Thursday-Friday (becoming more sleety Friday), before turning back icy next weekend. The wet sleety snow will probably be more disruptive than powder snow during the week
Didn't the railway use coffee filters or ladies tights when there is powder snow (stops it entering motor vents, then thawing and later re-freezing as the ice inside then damages the motor). I remember the Southen region running 2 car de icing trains, formed of HAL ? motor cars (2HALs were 1930s trains built for Sussex Coast electrification schemes), Aren't Network Rail GP Tramms used nowadays