Post by busaholic on Sept 24, 2018 23:09:43 GMT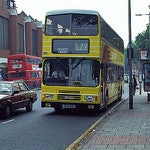 Back in the early 1960s London Transport was the monopoly operator in the Orpington Rural District Council area, divided between Central Buses and Country Buses. Basically, anything north and west of Orpington was Central Bus territory, and anything east was Country Buses, but south was part Central, part Country. Importantly, in this regard, Downe was red bus (the 146) but was only served from Bromley: Biggin Hill was green bus (the 410, plus Green Line 705), but again only from Bromley. There were no buses to those places from Orpington, and LT refused to consider providing them, citing the narrowness of Jail Lane (between Downe and Biggin Hill) amongst other reasons. In these pre-GLC days, the whole area was in Kent (even Bromley itself) although this was to change from April 1965. A group of people, some of whom were associated with the Liberal Party, which had long been the main opposition to the Conservatives in the area, but very much a minority, started to agitate both about rail services from Orpington Station and the lack of bus connections to it. I seem to remember their going under the name of Orpington and District Public Transport Users' Association or somesuch, and their main spokesman being called Dr something or other. Anyway, they managed to persuade LT that they had a case to provide a bus service, given LT's refusal, and perhaps they used the imminent opening of the Dartford Tunnel to propose an ambitious through Tunnel service to connect major towns both north and south of the tunnel itself. The company providing the small buses (I hesitate to use the term minibuses) MAY have been called North Downs Rural Transport. You'll appreciate that pretty well none of this has ever got on to the internet, so far as I can see. What I will add is that Orpington experienced a famous by-election in 1964 in which Eric Lubbock achieved a momentous victory for the Liberals, which became a template for further victories up to more recent times.
How long the Romford to Orpington (or, possibly, Biggin Hill) route lasted I wouldn't like to say, though I'd guess two years at most. It was plagued by delays from the start, from the little I remember. By the way, although I can't provide the precise genealogy, I'm fairly certain that Metrobus is a direct descendant from this arrangement, although there may be some 'out of wedlock' along the way!
That's as honest an account as I can give from memory: although I didn't live too far away, it was far enough not to feature in our local newspaper, and my main interest, as a schoolboy, was in red buses, as it still is!
A number of years ago Capital Transport published a very useful book that had all the old "independent" non LT bus services in it. Annoyingly I can't find my copy nor can I recall the title or find it on the internet. A lot of your memories align with what I recall. That small operation in and around Orpington grew to become Metrobus via various iterations along the way.
I share your annoyance

, not on that particular book, as I think it passed me by, but somewhere I do have the history of all this, probably in a LOTS London Bus Magazine, but could have been anytime over the last thirty years. My attic is full of them, but I can no longer get into it (a combination of the attic's fullness and my own more recent incapacity). If I have a lightbulb moment at 4 a.m. I'll post! Only extra thing at this stage is that iirc Romford Market was the terminus.