Post by SILENCED on Nov 2, 2018 16:07:39 GMT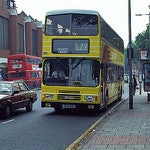 There are several issues with your analogy and what Flickr / Smugmug say they are doing.
I understand your "something for free" point but Flickr are retaining free accounts but with draconian photo based limits rather than storage size limits. The more equitable approach would be to cap on storage size so people have the option to load few but large file size photos or many more smaller sized ones. I always edit down my photos to a reasonable size which is why I'm nowhere near breaching the current 1TB limit for a free account (although I actually pay for Pro).
Flickr's CEO has said, on the Flickr Help Forum, the move to vastly reduce the numbers of "free" photos is down to just 3% of free account holders who keep their photos private and not shared openly. So, in short, Flickr are ruining the experience for 97% of users rather than tackle the 3% with vast libraries of "private" photos. One perhaps doesn't need a vivid imagination to understand why those accounts may be "private".
The decision to just delete probably hundreds of millions of photos is unprecedented (barring the complete commercial failure of a previous photo sharing site but even there steps were taken to allow people to retrieve their images). I really don't think Flickr have thought through the consequences of this policy decision.
As a pro user I face a 100% price rise. That's a ridiculous hike and not justified on any rational basis. The money may not be a huge sum but some of us are on limited finances and being able to buy food and pay the electricity bill is a tad more important. Given other events looming in this country we have no firm idea as to how much life's essentials are going to cost in less than 6 months time. Flickr could have come up with a more nuanced pricing structure to lessen the financial burden on people / ease a transition from a free (advertising based) model towards a paid one. Instead they have opted to pad out an already fairly poor and unattractive set of features with some tech advances and more "offers from partners" (i.e. discounts against already over inflated prices) that are of zero interest to me. Some people may well find that new offer fine but that's for them.
I don't object to paying a fee that I consider to be value for money. I've done that for years. I understand the need for Flickr to have a revenue stream that can sustain the business. What I don't understand is why they have opted for such a clumsy and heavy handed approach that will almost certainly cost them a great deal of users, a downturn in ad revenue and a downturn in their subscriber base. Perhaps they just want a much smaller business that is cheaper to run? It would be honest of them to actually say this rather than the usual flowery buzz word laden nonsense you get with these "It's all wonderful, PS - here's the bad news" type announcements.
I've already advised my Flickr followers that my account will cease next July when my subscription expires.

I had not appreciated they were hiking up the fees for those that already pay.
You obviously know far more about this than I do ... but if what the CEO is saying is true, why not just remove the ability to post private photos?