Post by marlon101 on Aug 14, 2019 9:33:02 GMT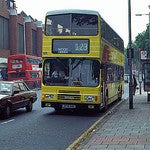 under a more 'patriotic' PM who may prefer to see it in the hands of a UK operator (DfT may have to back down over Stagecoach & Arriva then)... as franchises run out, we could see more 'directly operated railways' dealing to a BRINO (British Rail in Name Only

) and perhaps a return to the BR brand (or National Rail)

Chris Grayling is in charge is the first issue. He clearly thinks he's being clever in dumping pension fund risk on bidders but he's being inept. The other problem is that too many companies have overbid to retain work and the economy has faltered and will likely soon collapse. This will destroy the basis of multiple franchise plans all at the same time. Abellio are bleeding money on Scotrail and Greater Anglia. First have already made provisions on Trans Pennine. SWR is a basket case after years of reasonable performance under Stagecoach. Timetable and fleet plans on SWR are likely to go out of the window completely in about a year's time.
I can completely understand why cold hearted venture capitalists based in the US would consider rail franchises to a disaster zone and would want to get out of that business. I'm not strongly pro nationalisation or pro private sector franchisees. I can see plusses and minusses with both. I do think the current structure and franchising approach has had its day but Grayling is not the person to come up with a viable alternative. There are more important issues on the railways like strategically planned long term investment, getting a more rationalised approach to rolling stock, pushing up operational performance, adding capacity where needed at sensible prices.
I used to know a fair bit about the railways but haven't properly followed them for about a decade. Can you elaborate on what the issues at SWR are or point me in the direction of some reading?
I was intrigued to read the BBC article on this, suggesting that First may yet retreat from UK rail franchises (I guess it depends on the future of this model of franchising) and spin off its Greyhound and UK Bus ops. What would that leave them doing!? Not a lot...