Post by busaholic on Jul 6, 2019 20:51:32 GMT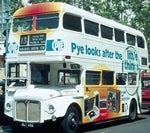 Driver had a PCV licence allowing him to carry members of the public, which rightly places a responsibility to drive professionally and be in a fit state to drive. Clearly this driver wasn't.
One cannot have a responsible job such as a bus driver and take drugs, full stop.
I can understand and have sympathy with the driver being depressed having been diagnosed with cancer. Having had that diagnosis there seems to have been a complete lack of support which really should have been there. There are organisations such a Macmillan who can help provide the necessary emotional support which may have prevented this tragic accident. Now maybe I am being unkind, maybe that support was there but it failed, we simply don't know. Clearly the driver felt unable to tell his employer what was going on and was unable to appreciate or in denial about the risk he was running in taking the drugs and then driving a passenger bus. Perhaps he felt fine at the start of shift and then felt he could not stop in the middle, not that any of this excuses what happened. I think it is difficult for the employer to always know what is going, particularly if the driver hides it, but clearly matters failed here as well.
My big sympathies go to those on the bus, those left in a state of shock, and in particular those injured either physically or mentally, or both. I hope they all make the speediest possible recovery and have the confidence to use the bus service again.
Finally a 2 1/2 year sentence seems quite high to me given the circumstances and relative to some other crimes, but then I know nothing, I am not a judge!
When my wife got a cancer diagnosis six years ago, the first thing she did prior to her (successful) treatment was to give up drinking totally, which, given how much she had enjoyed wine in particular was hard, but she did it to enhance her chances of survival, as that was the advice she received. I've also known a lung cancer sufferer who refused to countenance giving up fags, with the result that his death was protracted and caused his family unnecessary stress.
Regarding the court case, if the cancer diagnonis was presented as a mitigating factor by his Defence Counsel in relation to the sentence I can see why it would not have been considered so by the judge. In the past there has been at least one case where a car driver bent on suicide has deliberately crashed into another car, causing death and/or serious injury, but has themselves survived and been brought to face justice. Using their suicide wishes to propose mitigation was, completely rightly imo, dismissed out of hand, and may even have hardened the heart of the judge (we shall never know.) Incidentally, a well-publicised heavy sentence can nip copycats in the bag too, because there was a spate of such incidents around the time.