Post by route53 on Aug 3, 2020 17:16:46 GMT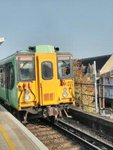 - The Great Northern suburban lines to TfL of course, it's pretty much self contained
- The outer suburban/interurban Great Northern services to Kings Lynn should remain independent from Thameslink and LNER,
- The Maidstone to Cambridge service will never happen at this point, so Thameslink should focus operating the Brighton/Bedford, Brighton/Cambridge, Sevenoaks/St. Albans, Orpington/Welwyn, Horsham/Peterborough services plus a new service replacing the Sutton Loop/Luton service; the Sutton loop service will be diverted to Beckenham Junction
- Bin off the Rainham service back to Southeastern and restore the semi fast stopping pattern, instead divert that service down to Coulsdon Town by taking over the current Southern service via Sydenham
- The West London Line remains with Thameslink branded as "Thameslink 2" and promoted more, it'll have 2 services;
• the current East Croydon to Milton Keynes service
• A new service Clapham Junction to Birmingham New Street
- Southern and Gatwick Express will revert to being on its own
I think there is some case for splitting up the huge TSGN franchise as it does cover a huge number of services. One thing which niggles me is that the GTR network map has far too much information on it and so it must be confusing for passengers to have to navigate it especially people using Gatwick who will have to look at a map with hundreds of stations on to work out where they are. I'm in favour of transferring the Hertford loop and South London metro services to TfL as this would go some way to simplifying the network with Thameslink and Southern left to focus on longer distance services out of London Bridge/Victoria as well as the south coast services, I don't really know enough about the south coast services to know whether it'd be worth consider splitting that off but I don't think its out of the question. As for Great Northern I think its lost any distinct identity now, if you gave the Hertford loop to TfL then it'd be even more pointless to retain a franchise just for with only the King's Lynn unique to it, if I were going to Cambridge I'd always pick a 387 over a 700 but nevertheless the canal tunnels were a great piece of infrastructure which provide really handy north-south links where before you'd have had to change there and I certainly wouldn't support any ideas to render them useless given how much time and money it cost to build them. 
On the subject of the Sutton Loop it was an interesting idea you put forward about diverting the services to Beckenham Junction, given there's a bay platform does exist there its an intriguing idea. The downside of it would be Tulse Hill having fewer Thameslink services if you were to divert the Sutton loop services. I think there seems to be a fairly broad consensus on here that the Sutton loop line is a metro service which doesn't really seem to fit in the expanded Thameslink network and should be broken off to TfL. I think having some sort of Thameslink service going down the Mole Valley line would provide some handy links. The idea I had was for 2tph which currently go round the Sutton loop to altered so they run to Guildford via Epsom which would provide a regular service between those two rather than instead of the limited Southern service currently provided, which would be withdrawn. I'm not aware of any issues with paths on the Mole Valley Line or between Leatherhead and Guildford but happy to be corrected there. I recognise limited services often need to exist but where possible I think standardisation is better. I've also read others advocating a Thameslink service going to Horsham via Epsom which I think is a really interesting idea too to be honest but I thought Guildford would have the advantage of providing new connections with minimal effect to existing ones. 
I think the West London Line has so much more potential than being used just for stopping services. I'm not denying the current services on the line are very useful and are crush loaded during the peaks and weekends from my experiences but I would argue the line could be used for a mix of longer distance service as well as the short ones. Its been pointed out many times on here that the Milton Keynes Central-East Croydon service is a mismatch between a stopping services south of Clapham Junction and a semi-fast one north of it. I think restoring the Brighton-Birmingham services would be a really good idea - the lack of intercity services across London is a real shame and something which Crossrail does nothing to address. The problem is really that the West London Line is so unique that its become a common freight route and I believe that there are no paths available for further services unless the line is resignalled to improve capacity, something which affects the North London Line too as I believe the reason why there are only 2tph from Clapham Junction to Stratford is due to freight paths. 
GN inners will go to TfL, probably happen in 2021 I imagine, South London metro routes however I'm not so certain, even before Covid TfL Said they didn't want to run services via East Croydon which is Where the bulk of the metro routes run to.
I definitely agree with running a Horsham via Mitcham and Sutton service, then the current Horsham Thameslink service could be extended down to Littlehampton
In the era of Connex they did want to run a Brighton to Birmingham service, but what we ended up with was a overlap set of services
1: Brighton to Watford Junction
2: Gatwick Airport to Rugby
This was to have absorbed semi fast services on the BML and the Birmingham to London end of the WCML.
It doesn't have to be Cross Country but the branding Thameslink 2 would work, problem is the stopping pattern on the southern end of the current West London route, it runs on the local lines, because of it were fast and ran on the fast lines, there would a conflicting move at Clapham Jnc, and one delay would hold up the entire Southern network.
The only thing I could suggest is keep the existing East Croydon to Milton Keynes service, then have an overlap service from Clapham to Birmingham, which would call only at selected key stations after Shepherds Bush
Who knows after the East Croydon upgrade the WLL May live up to its potential