Post by Eastlondoner62 on Jan 29, 2021 12:40:08 GMT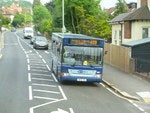 You mean the same "rapid" bus scheme they were talking about over a decade ago? We were given the 472 instead LOL. No bus around here will be rapid without causing traffic misery for regular buses and other road users. Once you get to Charlton and beyond, the mainly Victorian roads (naturally) become very narrow. I don't want a rapid transit. I just want bus priority, reliability and comfort on the existing services. Besides, I can't take ideas about a rapid anything through Woolwich seriously unless something is done to stop queues for the Woolwich ferry spilling across and blocking the roundabout on the main road. There are simpler things that could be done now to improve traffic flows, before spending money on a bus service with fancy infrastructure.
I don't think BRTs will take off in London until they get the only one we have right.
The traffic around the retail parks in the Charlton area contribute so much traffic it's unreal. Even little things like cars getting out of the Primark there, then needing to forcibly exit heading left to loop the road, but then can't loop the road without causing a block is causing huge issues. Any BRT would just wind up getting stuck in that mess. Then as you mention, the queues for the ferry can get ridiculous, even when the ferry isn't even in operation as the lack of adequate signage on its approach means many cars just wind up there and are forced to U turn to head to the Blackwall Tunnel instead. It's just ridiculous.
For a proper bus rapid transit, we need busways, priority signalling, bus lanes, specialised stops to deal with high flows of people and open boarding. Now while LTs on the ELT brought open boarding, that's now gone out the window and I have to say, the open boarding on the LTs was the best thing to ever happen to those routes. I'd really love to see someone unfamiliar with this area to go down Ilford Lane and determine if a bus rapid transit route could realistically pass through there as rapid transit, or just a standard bus route that gets stuck in traffic.