Post by uakari on Feb 18, 2022 17:21:06 GMT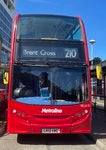 Gloucester Road is far because of the bus stop position on Station Road, which can't really be changed without adding stops although crossings could be improved. Lyonsdown Road is nearer to the 326 but again you have to look at roads OFF those roads to get the true maximum distances and also take into account the steep gradients and bus stop placement for the 326 along Longmore Avenue/Lyonsdown Road.
As per TfL's initial EqIA for the 384 consultation (which they subsequently deleted from the consultation website but I have a copy if you're interested), this leads to 450m+ distances uphill to Hillside, Denewood and Richmond Road in particular, and the EqIA rated the negative impact of removing the 384 in this area on the elderly and disabled groups as 'HIGH'.
Hence my idea for the 383 to go via York Road (north), Richmond Road and Gloucester Road but not go totally back on itself down to Longmore Avenue.
Obviously I agree just keeping the 384 on these roads would have been better, but as TfL don't want that, I suggested these alternative ideas. The priority in this particular area is a direct link to High Barnet, Barnet Hospital, New Barnet station and New Barnet shops (the east-west link that the 384 provided). Even once you get to the 326 it isn't direct to High Barnet and you have to walk uphill to New Barnet station at the other end. I agree duplicating the Whetstone link with the 326 would therefore not be ideal, but at least diverting one of your new proposed services would restore a direct link to High Barnet.
Fair enough although my concern is saturating an area that is already quite saturated with buses. There is definitely not the demand from High Barnet to New Barnet that needs 22.5bph for example so you could perhaps alter some of those services. If I'm honest you could probably reroute the 384 round Gloucester Road & northern section of Lyonsdown Road, re-establishing the link to the New Barnet Station forecourt which I know you were concerned about losing.
It's only Station Road that has quite a lot of buses (soon to be one less without the 84), at the expense of the areas around it (hence why TfL diverting the 384 away from Gloucester Road, Lyonsdown Road and York Road made even less sense) Yes the 384 being restored would be the best idea, but as we know TfL is dead against that.