Post by southeastlondonbus on Nov 7, 2013 18:37:22 GMT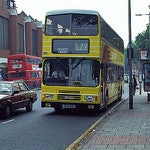 I also do not think we can be certain what Stagecoach would have done in terms of vehicle purchases for London if it had not sold out to Macquarie. It strikes me that Scania offered London operators some very attractive deals given the vast numbers of N94s and N230s that have been bought by Metrobus, London United, ELBG and even CT Plus. I suspect quick delivery times may also have been an attractive feature for some operators. It's possible that Stagecoach might have gone for Scanias if a good deal was struck. Given they buy large numbers of them for provincial fleets, including Gold services, they must think they're decent vehicles.
It's obvious you like Tridents but they're on their way out. Stagecoach have some of the better ones as they tend to look after their fleets. I don't see Tridents carrying on on any contracts unless TfL get to the point of waiving the vehicle age limit in order to save money. Nothing is going to change with the Romford area work that Stagecoach have recently won so get used to the Scanias. I thought the refurbed ones looked very smart when I saw them recently.
All the speed bumps and potholes on London's road's in the past few years can't help the suspension on these scania's? The PD one's on route 51 for instance are well thrown about down Swingate Lane. They are very basic buses part of me likes them in a way though, I have been on every one of PD's omnicities from when the 51 was one of my local routes.
As a daily user of the 51 I have to suffer those Scania's. To give stagecoach credit they quickly sorted out the vubration issues and other problems but the only dissapointment is there is still a lack of seat padding on the refurbished buses but overall I have grown to like them.