Post by nickfreckle on Feb 3, 2017 19:40:50 GMT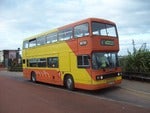 The parent could simply hold it next to them in a folded condition.
So two people can hold a baby, a folded base and a top of one of these? (Not the exact same thing, but of a similar type).
Where does the top go? Luggage rack is already full with buggy number 4. It's simply not a reasonable to request to make so that one person can get on board.
The point I keep trying to make, and it's not anti-wheelchair or people with disabilities, as I have had family that are no longer with us with disabilities and know how hard it is for them, is that there is a fine line between having
equal
rights and having
more
rights.
The mistake that was made when low-floor kneeling buses first came in to service, is that a lot of companies pitched them as buggy friendly buses. The horse has already bolted on that. If they were pitched as wheelchair friendly buses from the outset, perhaps people's mentalities would be completely different today.
I do sympathise with the wheelchair user that can't get on because they bay is full. But then, I also sympathise with the Mum with the buggy or pram and a couple of kids not being able to get on because there is no room, or the commuter that's been waiting in the piddling down rain for more than 20 minutes because a bus has been cut for whatever reason and they can't get on because there are people pressed against the windows it's so full. It happens to all walks of life, all types of people. It's life, it happens - to everybody - and with all things being
equal
, which is the imperative word here - everybody, has to wait for the next one that has space. But in reality, that's not the case is it? The people that want equality have gone beyond being equal to having more right of travel than anybody else. I happen to know a couple of wheelchair users, and the sad thing is, is that they themselves actually feel embarrassed by this chap taking First to court and think it was completely unnecessary. On another forum I post on (not bus related, but there has been a thread about this issue) there have been anecdotes from plenty of others that have family and friends with disabilities that are also embarrassed by all of this.
There can be no other fairer way than first come first served, as has been mentioned by many - because that is THE most equal thing.