Post by snowman on Jul 28, 2010 14:53:48 GMT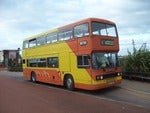 So 154BHP which is very underpowered for 11.1m imo.
Iirc (correct me if im wrong) the original transdev OVs and elbg versa's have the same engine but are 10.4m so have much less weight to carry around on the same power.
The reason why its underpowed is I believe Mercedes don't offer higher BHP engines for the Versa, shame they didn't go for Cummins Versas, not only do they sound nice but they have been known to jumpstart cars, just like the graceful old Volvo B10M

.
The Mercedes engine used in the Versa is the OM904LA which is 4.25 litres
max power 115KW (154bhp) @2200rpm
max torque 610KN @ 1200rpm
The alternative engines are 150KW (201BHP) Cummins or 132KW (177BHP) MAN
The Mercedes bus brochure doesn't have such a weedy engine,
you can get a 220KW in Citaro-L, Citaro-G and Citaro-U (a massive 12 litre)
or a 210KW version in the Citaro and 10.5m Citaro-K (6.37 litres)
www2.mercedes-benz.co.uk/content/unitedkingdom/mpc/mpc_unitedkingdom_website/en/home_mpc/bus/home/new_buses/models/regular_service_busses/citaro/technical_data.html
It appears the OM904LA was first introduced in 1996 so is hardly a new design, (but has presumably been upgraded), surprised they still make it
Mercedes have an optional engine in the sprinter minibus with 120KW (160bhp) from a 2143cc engine
www2.mercedes-benz.co.uk/content/unitedkingdom/mpc/mpc_unitedkingdom_website/en/home_mpc/bus/home/new_buses/models/minibuses/Sprinter_Transfer/technical_data.0001.html