Post by COBO on Jul 22, 2018 14:06:46 GMT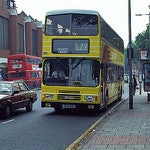 While I understand the debate about reducing cross town centre movements in Richmond we are left with the issue that it is chronically short of stand space in the town centre and the bus station, such as it is, is borderline useless for terminating services.
I suppose you could end up with the following.
R68 curtailed to Twickenham Station (using old 110 stand).
H22 and 419 merged across Richmond
We know the 493 is being curtailed to the Bus Station
371 extended to Kew Retail park
33, 490, H37, R70 unchanged
That rationalises bus movements across Richmond, takes some capacity out of Richmond - Twickenham, reduces stand requirements in and around Richmond. The worries would be whether a merged 419/H22 could actually run reliably without the need for regular curtailments. Extending the 371 could overbus the road to Kew Retail Park. The only other option would be reroute part of the 391 via the A205, Kew Retail Park and then over the railway to regain its current route near Kew Gardens. There would still be a loss of some part of the R68. I've no idea what the patronage levels are in this part of the world so I may be talking nonsense about rerouting the 391. I am more familiar, albeit a tad of out of date, with Richmond to Twickenham which has always been very busy. Whether it can lose 4 bph these days I know not.
I would leave the R68 as it is, and instead extend the 371 to Hammersmith to replace the 419. Then extend the H22 to Turnham Green to partially replace the 391.
When you mean extend the 371 to Hammersmith via the 419 does that include the double deck journeys.