Post by Nathan on Feb 22, 2016 13:35:54 GMT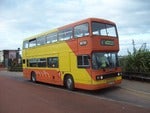 Link:
www.flickr.com/gp/125738580@N07/520Tvp
It looks a little basic compared to one or two apps I've used. Not sure if you have London Bus Checker on Android but check that one out - I use that a lot and the looks of the app are really nice.
Indeed, it does look quite basic. These are only mock up images to illustrate how the app will look. Initially the app will look like this, then later on down the line I will try to customize it a little bit (by adding colour, icons etc).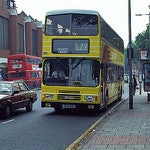 Link:
www.flickr.com/gp/125738580@N07/520Tvp
There seems to be a presumption that the operator of a route or a vehicle is known. On only one screen shot was the operator's name shown. That feels slightly odd to me and assumes that there is nowhere in London where the same vehicle code could be used by two operators. Not sure that's true.
The other comment is similar to vjaska's. The screens look a bit basic and bland. I'm not saying they need to glow like a
late 80s/early 90s rave music video
but a little bit of colour or lining to separate entries or highlight a key field of info relative to the others might add a little verve to the presentation.
Ah, I see. So do you think it would be better to always display the operator name next to the route/vehicle?
I hear you on the 'bland and basic' point you and VJ raised. I think I might add some colour to the designs and post them on here again later this week.

Yes, the target audience are bus enthusiasts, given the amount of information given.
What kind of 'helpful captions' were you thinking of exactly? To be honest, I'm assuming the user has a basic understanding of the different fleet codes and bus types (similar LVF). But I'll be more than happy to include something that will help the user. Perhaps I can make it so the user can copy the vehicle registration from the app to Google for example to search up an image of it? It'd like to hear your thoughts.
Regarding the back button: The normal convention for Android apps are for them to have the 'up' button (usually something like
this
in the top-left corner of the screen). The screens I made displaying the bus stop times and the vehicle location both have this already. I have now just realised that I forgot to add it to the search screens, which I shall do soon. Essentially both the 'up' button and normal 'back' button do the same thing. Hope this explains everything.
---
For the new screens I'll be making next week, what colour theme should I go for? I was thinking red because...well, you know.
And thanks for the good luck, guys! I think I'll be needing it!