Post by M1199 on Oct 7, 2012 21:52:38 GMT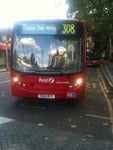 A good but emotional day out in my opinion, only ruined by the loud mouth yoofs in the lead car and the moron who decided to 'tag' it some time on its last trip up to Watford and back.

Having used the A's for over 25 years to start/finish holidays, commute to work, go shopping, meet a date, go to the GF's house, to go out for a night out up town and for them to bring me home safely whilst drunk
It certainly brought a lump to the throat when listening to all the creaks, clunks, clonks, wirling compressors and door chimes knowing that today, after all these years would be the last time I would hear all this.
It also good to see all the staff getting involved in the occasion, had some good PA announcements and plenty of them out with their camera's, on one run into Baker St it looked like all the Station staff were on platform 2 to take photos!, we also had the driver and his companions pile out at Kings Cross disused to grap a few snaps!
Also got filmed by London Tonight, you see me sitting (looking awkard) behind Simon Harris' left shoulder as he reports his bit on the luggage racks.
Now, just for Saturday......
The final leg from Watford to HOTH, was disappointing for me as commented on various other LU related forums to behaviour in the leading carriage. No offence to others but the behaviour exhibited is the reason I don't bus spot or train spot like go out and take pictures of both transport forms although I do occasionally prior to change. The departure at HOTH was moving as I grew up on the aluminium finished A60/62's.
It makes me laugh how after reading through other forums on this matter, they think that they were totally in the right to act in such a manner! I think one of them said that basically 'If we want to act like this, then you'll just have to put up with it.' At one point one of them make a joke about Hillsborough, Absolutely disgusting.......
For the Farewell Railtour, I had just settled down into my seat in car A , then who should jump on? Half a dozen of these so called Train enthusiasts (Some of whom were being very vocal on the final journey). I pretty much said 'oh for f**cks sake' out so loud, the woman opposite heard me! Apart from 1 who kept running up to the cab everytime the cab door opened expecting he could get a cab ride and on that blistering final run up from Finchley Road where we hit 74mph through Dollis Hill

, I didn't hear a peep out of them.