Post by DT 11 on Jan 16, 2015 10:24:51 GMT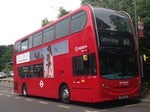 The 53 is curtailed to Lambeth North whenever disruption occurs in Westminster anyway, I can see why this is being done, there is really no point of the 53 going through severe delays in Parliament Square just to get a few people to Whitehall pretty much the end of the route, then on return being curtailed to even more unhelpful destinations such as New Cross Gate, Deptford Bridge & Blackheath, Royal Standard when it can avoided the busier section is Elephant & Castle to Woolwich, whenever I have used the 53 to Westminster only a few people are on the bus after New Kent Road. The 453 is still running full service I assume so disrupted users will have to use the 453.
It's more than a few people, it's not uncommon for the 53 to pick up a near full load at the first stop so I don't see how the 453 is going to cope.
Indeed, but unfortunately those people are going to have to find other alternatives to travel or walk. In addition Neither is it uncommon when gaps appear on the 53 larger amounts of people are waiting in Elephant & Castle to fill up 1 or more buses to go to Woolwich, the most demanding section of the 53 is between Elephant & Castle and Woolwich, so I think it is right to cut the route to Lambeth North Temporarily to maintain a decent service on the 53, because if the 53 went ahead going full route, the 53 will end up full of curtailments at probably useless places along the route such as New Cross Gate, Bricklayer's Arms, Deptford Bridge and even Blackheath, Royal Standard and become unreliable for the duration of roadworks. The 12 & 453 are also going to suffer delays, the 453 covers the 53 up to Deptford so the bus users already have another bus.