Post by Steve80 on Nov 7, 2014 6:08:05 GMT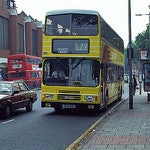 As an aside, and I don't believe it's Abellio specific, there have been some very interesting Mayoral questions about bus vehicle safety, manufacturer / VOSA alerts and how TfL keep control of what goes on. I'm not sure what it is that has prompted the questions but it's not standard fare for Mayor's Questions.
Didn't someone on here a few months ago say that Abellio staff were receiving some sort of training to help maintain the buses better? I think it might have been
Steve80
. Any idea what has happened with that?
Yes, we had the training via a member of staff from VOSA. All of the drivers and engineers were required to undertake the training. Since then I noticed some improvements as I haven't had to report so much faults with each bus I have driven. Still some problems with a few of the Volvos such as 9032 with the performance so bad that the bus refused to go up Anerley Hill meaning I had to kick everyone off, which was quite a distance from the bus stop. I spoke to a few of the drivers and they the bus has been slightly improved.
Anyway, I was surprised to hear that another of our buses caught fire. Unfortunately, I don't have much information to share and I couldn't find the bus in the garage so no picture either
Tbh, I thought the drivers were exaggerating as I couldn't believe that there would be another incident so soon. Coming on here, its the first time I heard that it was a Volvo as I was originally told it was a single decker (which explains why I couldn't find the bus). I also heard that the damage is not too bad compared to Volvo 9066. Speaking of 9066, I see some of the tyres have been taken out which left me with the impression that they are taking out the more valuable parts of the bus. There's already another article of this incident on the BBC News website.