Post by DT 11 on Nov 25, 2016 5:17:57 GMT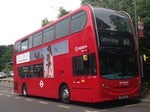 Ian Armstrong's Website as you have stated above
londonbuses.co.uk
has the official Route record sheets for most routes.
Additionally just because a route passes a turning point used by another route does not necessarily mean other routes will have it as an official turn.
Examples:
177 to Thamesmead, Bolier House is only a official turn for the 177. It isn't for the 244, 229, 401, 472 or B11 according to the route records.
Catford, Town Centre is on the route record for routes 47, 54, 75, 124, 136, 171, 181, 185, 202, 208, 284, N136, N171, N199. It is not a official turn 160, 320 or 336, However I have seen 320s curtailed at Catford, Town Centre before and go stright around the Gryratory back to Biggin Hill Valley, the 160 uses Hither Green so would have no need to use Catford, Town Centre. The 336 would use Downham.
I think this is quite a good subject
enviroPB
.
I would also like to add there are some routes with 1 official turn and some routes with no turns, and some routes with a specific turn just for it. There are some routes with loads of turning points, and some routes using the same turning point and it has different names.
Examples
129 to East Greenwich from North Greenwich or Greenwich, Cutty Sark
B13 to Avery Hill Road, Halfway Street from Bexleyheath
Routes 327 & R9 have no turns according to the route records.
233 to Foots Cray, Ruxley Corner is used by no other route.
Just a few things..
Thamesmead Boiler a house is an official turn on the B11
The B13's have a curtailment at Danson Underpass and the 286's also turn at Avery Hill, Halfway Street (they just show Avery Hill on their blinds).
For the 'unofficial' turns such as Catford Town Centre on the 320, service controller should have to code such unofficial curtailments as Service Requirement as such curtailments are classed as deductible mileage.
About the B11 your right. Didn't think it was
www.londonbuses.co.uk/route-records/B11.pdf
It is not official on the route record, having done the B13 it is not on the MDT.
www.londonbuses.co.uk/route-records/B13.pdf