Post by snoggle on Feb 23, 2019 13:19:28 GMT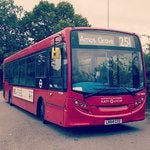 <snip>
Any route serving and terminating at Harrow Bus Station (114, 140, 182, 183, 186, 223, 258, 340, 395, 483, H9/10, H11, H14, H17 & H18/19): A Bigger Bus Station. Crossing the road at the bus station entrance and exits can be like a game of skipping stones if the bus station is congested with buses sticking their butts out into the entrance/exit crossing while trying to navigate their way into and through the bus station. Congestion along with stand space is a pretty big problem for this small bus station, especially in the peak. But possibly the biggest problem is space for a new bus station. Available land is either greeny parky areas or it's taken by councils and redevelopment companies who use this available land to build houses.
In an ideal world (i.e. one in which public transport got the investment it deserves) the solution would be to completely rebuild Harrow-on-the-Hill Station, with the platforms covered by a raft on which a brand-new bus station and stand area would be laid out. Needless to say the bus station would have direct access to all platforms by lift via a fully-accessible ticket hall. As it was, plans to spend money to make Harrow-on-the-Hill accessible were cancelled under Boris Johnson's Mayoralty.
What we will probably get is bus stops along College Road for through services not terminating at the Bus Station, and I can see routes 182 and 186 running directly along Station Road and not serving College Road/the Bus Station at all.
Well Harrow on the Hill is in line to get some accessibility works done - a lift on the south (bus stn) side from street to overbridge level and I believe lifts down to platform levels. There will not be a lift at the north side. A housing redevelopment is also in the works for Harrow on the Hill. Not sure what TfL land it's going on or if it is on a deck over the station platforms. I agree the 182 and 186 will almost certainly be diverted away from the bus station. Also the 258 may be a candidate. With the rumoured rerouting of the 395 and H17 that may bring in other changes. It will probably be a two stage thing because of the X140/223 stand changes needed later as part of the Crossrail changes. While I completely agree that the bus station is too small and that there are a lot of bus movements I think breaking interchange with other bus, tube and rail services is an utterly ludicrous idea. Sadly we are seeing this stupidity being wrought in Walthamstow with Croydon next. This is the worst sort of idiotic practice that we see in deregulated areas where operators pretend other services and other modes don't exist and passengers have no need to interchange efficiently and safely.