Post by busman on Apr 27, 2020 14:49:14 GMT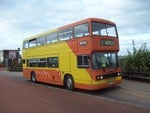 1) people will continue to be very cautious and not use the transport network, preferring to stay indoors
2) people will go out even more than they did before the lockdown happens and use the transport network a lot
If I was choose, whats more likely to happen, I'd have to say that 2) would be more likely given there is plenty of evidence to suggest that people are actively breaking lockdown conditions so when lockdown is eventually officially dismissed, there could be surge of people wanting to be out & about more often after the experience of staying in for weeks/months on end. Even if we do go down the road of cutting routes, key workers will still continue to use public transport and given many key workers are low paid, it may even see usage increase after the lockdown is lifted so there are many variables in play.
busman
I do agree with your points 1 to 3 though maybe scrap the hopper fare entirely if it can save some money financially but right now until the picture becomes clearer on usage once we leave lockdown whenever that maybe, I'd personally hold fire on withdrawing routes except for scrapping the Crossrail changes entirely (244 double decking the only exception) and revisiting them further down the line but it's only my own personal opinion.
A couple of questions/thoughts:
Even if there is a surge in people going out, does that necessarily translate into increased bus usage? Particularly if we have a gradual lifting on social distancing measures, under those circumstances crowding onto a bus with people outside of your close circle of friends/family probably won't be advised or desirable. I'm thinking TfL and unions will want to protect their drivers as well to avoid buses being crowded for the foreseeable future. Conversely, that might remove the option of savage frequency cuts during busier times of day, but as
snowman
mentioned, a situation where we see dramatic cuts in off-peak frequency isn't unthinkable. I would certainly prefer that, than to see entire routes withdrawn.
With regard to scrapping Crossrail changes - I think we may see TfL keen to implement. The changes were quite canny. It wasn't a give away...more like give with one hand and take away with the other. TfL have dished out plenty of the good stuff with new routes in West and South East London, but without the pain - such as diversion of the 427 and various cutbacks in SE London. These have already been consulted on, so in theory some quick wins are available and can be positioned with some positive spin.
One thing I haven't seen mentioned is anything about cuts in back office staff, but then again I'm not sure how much is left to cut! I know we all complain about how TfL customer service and bus information has deteriorated over the last 5 years, but I think the next set of cuts will be far more visible to all passengers. We may all be producing our own bus information in future via technology providers and clever use of data.
Above all, I hope Sadiq Khan reconsiders his pledge to freeze bus fares for another 5 years if elected, but so far he seems to be good at keeping his manifesto promises. If he gets re-elected, that pledge alone will force TfL to make deeper cuts. Perhaps his cunning plan is to hike tube fares so much, that bus travel suddenly becomes much more attractive and there is a significant modal shift from tube to bus 🤣