Post by snoggle on Jan 12, 2017 20:43:55 GMT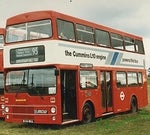 www.railtechnologymagazine.com/Rail-News/tbms-for-northern-line-extension-all-set-for-testing
The TBMs should have started months ago but the Battersea crossover box was delayed (don't know reason), and until it was ready they couldn't be lowered to their launch positions. Each one bores towards the outsides of the loop at Kennington, and junctions with the loop will be made.
www.globalrailnews.com/2016/10/21/tunnelling-works-start-on-londons-northern-line-extension/
The arrangements for the Battersea Station were thrown into disarray because the developer changed the over station development design. I understand this has had implications for what goes on below. The station box at Battersea includes the crossover so until you are dealing with a fixed, agreed design for the entire link there is no point tunnelling. The last official report stated that there had been ground problems at the location which delayed the box. Goodness knows what the commercial fall out has been for LU. I suspect the completion date for the extension is certainly now later than forecast and there may be other knock ons because the programme was already extremely tight when it was signed off and it's gone sideways by several months (last report I saw suggested at least 160+ days delay). Unfortunately the complete absence of Project Reporting by TfL in recent quarters has created a gap in terms of up to date info.
Tunnelling was supposed to start with TBMs nearly a year ago so it seems the link may now be 1 year late if the TBMs have not yet gone into the ground.
content.tfl.gov.uk/battersea-power-station-update-dec-2016.pdf
content.tfl.gov.uk/northern-line-extension-quaterly-newsletter-dec-2016.pdf
I think the timeline in the newsletter is rather too vague for its own good but I imagine no one wants to shout "project is late" even though it's not LU's fault.