Post by snoggle on May 31, 2018 0:42:03 GMT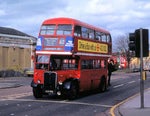 There are though a whole host of other issues that GA don't seem to have answers for.
The biggest concern is over the loss of 8 car sets off-peak on both WA and GEML. GA won't say whether off-peak services will be 5 or 10 car consists. While the new 5 car Aventra's provide a similar seating capacity to an 8 car 321 set there will be less standing space and consequently more people will be crammed into a smaller space, which is not ideal. Fewer doors too.
Others include, the Bi-modes' 500 mile limit between refuels, the lack of a Depot at Manningtree upon which their bid timetable was based, rumours that the consultation timetable is delayed because they just can't get it to work, and the feeling that the mix of Aventra units will be nowhere near enough to run the service.
Interesting times in East Anglia approach. I hope it does go smoothly, because the Aventras will be most welcome on my commute but experience tells me otherwise.
I don't think anyone is claiming rural East Anglia lines have a capacity problem. As for the rest I was relaying remarks I've seen elsewhere. I know from your comments on railforums uk that you have extensive experience of Anglia rail services and clear concerns and opinions on lots of issues.
I am not surprised to see you say the proposed timetable won't work. This now seems to be a recurring theme with every franchise award which makes a mockery of whatever it is that is actually bid. The DfT seem perfectly happy to allow bidders to walk away from their commitments and I expect the current Thameslink disaster will make them even less likely to accept complex or controversial timetable changes. We've got Thameslink, Great Northern, Northern, Transpennine, SWR and possibly Greater Anglia all in a mess over timetables. I guess we can throw in Southeastern and West Midlands Trains at some point too. Let's not even think about West Coast Partnership. There seems to be a disconnect between the bidders submissions, DfT's appraisal and analysis of bid timetables / resource plans and then the subsequent exposure of the bid proposal to the harsh reality of the working railway. That's a serious problem.
I was aware of the depot issues which must be causing an enormous headache but one wonders exactly what research and planning Abellio did before making such an unworkable proposal. Haven't kept up with things like 5 vs 10 car units nor the fuel range of the Stadlers. We'll see what happens with the main line EMUs. I still think Tottenham Hale will be a mess if the Stansted Expresses have long dwell times. The service frequencies for stoppers are already abysmal and show no sign of improvement because of the overprioritisation of longer distance trains and the lack of investment (aside from STAR) in the route to provide extra capacity. Even the odd judiciously placed passing loop or extra platforms to recess slows might help given the Mexican stand off over 4 tracking and who pays for it. I also think the DfT's decision to remove peak time stops at Edmonton Green for GA trains is also a huge issue lurking in the background given the trains will still run that way in the peak (no paths via Ponders End) and I expect people in Edmonton rely on them for a fast journey. I understand peak time Overground trains are packed so there's no relief there and there are no extra paths. I can see that "mess" becoming very controversial once people twig what's planned.