Post by SILENCED on Nov 19, 2021 14:06:36 GMT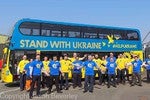 If we had not had COVID would this decision have been taken. Maybe, maybe not, but it is a side affect that could be attributed to COVID and the economical lockdown. People were very quick to say you need to pay for this, support this sector, but the reality is unlike some think, governments do not print money for free ... the truth is COVID will be affecting British lives economically for probably the next 20-40 years ... and that will be whether Labour, Conservatives or hopefully some new political group comes to power.
A lot of the criticism though comes from the discrepancy between rail spending in London compared to the rest of the country. The North received £349 per person in transport spending in the previous decade, against London's £864 per person. Had the North received the same level of funding it would have had an extra £86billion. 
Governments need to invest, to create good infrastructure that supports the nation's economy and produces secure, well-paid employment which returns money to the Government in increased income tax revenue. We can't just keep turning the taps off every time there is an economic wobble. 
Don't disagree, but also don't want us to become an international financial basketcase like Greece. It is all about finding the right balance. Ideally you would want the well paid jobs to be in areas that bring money into the country, no necessarily ones you are funding internally, but yes there is a balance to be founds, and probably needs correcting in certain sectors.
Think rail has suffered big time because of COVID, and as now the government is taking the financial risk on fares, there is no incentive for TOCs to attract customers back, and DfT seem to be doing little, which is apparent to to the lack of cheap tickets offered. The current system is broken and the rail system will be self-destructive if it continues on its current path. Don't know the answer to solving it's problems, but certainly needs some drastic reform.